Trumpets That Work 2015 Calendar
This 2015 "Trumpets That Work" calendar features stories of trumpet players, trumpet makers and the development of the trumpet over several generations. It is an excellent gift to give to all of your favorite trumpet players, and of course for anyone who loves looking at trumpets and learning about their history. The trumpets pictured are significant because in many instances they are part of the professional accomplishments of great trumpeters going back a hundred years and more.
Many of these trumpets are also related directly to the history of symphony orchestras, and several current and former professional trumpeters have assisted in the research for each story. The specific history of the Chicago Symphony Orchestra trumpet section is also featured within several of the narratives, and special thanks to Tom Crown, Michael Sachs, Rudy Nashan, Bill Babcock, Frank Kaderabek, Will Scarlett and the family of Adolph Herseth for their assistance and permissions.
John Hagstrom
Second Trumpet
Chicago Symphony Orchestra
Order now on the Hal Leonard website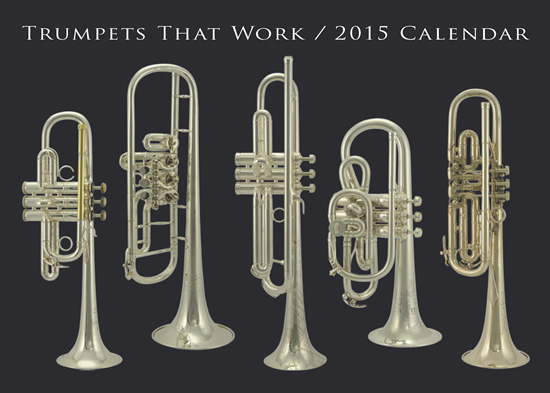 January
C. G. Conn Trumpet in Bb
Conn's best selling professional trumpet model in the 1920's and 1930's
February
Alois Zmítko Trumpet in C
This top action rotary valve design (TARV) was built in Czechoslovakia
March
Frank Holton Trumpet in C
Adolph Herseth performed on this trumpet in the Chicago Symphony Brass Ensemble
April
C.G. Conn Trumpet in Bb
Played by "The Queen of the Trumpet" Valaida Snow
May
Vincent Bach Trumpet in D
This trumpet was owned by William Vacchiano and played in the New York Philharmonic
June
Renold Schilke Piccolo Trumpet in Bb/A
Owned by Adolph Herseth and used to record J.S. Bach's Brandenburg Concerto No. 2
July
Couesnon Trumpet in C
Adolph Herseth played this trumpet to audition for the Chicago Symphony Orchestra
August
Renold Schilke Trumpet in G
Owned by Adolph Herseth and played in the Chicago Symphony Orchestra
September
J.W. York Cornet in Bb/A
"Wizard Model" patented by Ernst Couturier in 1913
October
Lyon and Healy Trumpet in Bb/A
This Couturier "continuous conical bore" model was produced from 1924 until 1928
November
C.F. Schmidt Trumpet in Bb/A
Played by Albert Ulrich in the Chicago Symphony Orchestra's original trumpet section
December
Vincent Bach Trumpet in C
This trumpet was owned by New York Philharmonic principal trumpeter William Vacciano and Gerard Schwarz
January 2015
F. Besson Trumpet in Bb
Played by Jacob Borodkin, principal trumpet of the Chicago Symphony Orchestra Orchestra in 1911-1912
Questions? Email info@TrumpetMultimedia.com