Trumpets That Work 2014 Calendar
This 2014 "Trumpets That Work" calendar features stories of trumpet players, trumpet makers and the development of the trumpet over several generations. The trumpets pictured are significant because in most instances they are part of the professional accomplishments of great trumpeters going back a hundred years and more. These instruments come from around the world, and each page includes additional information about their history and design.
Several of these trumpets relate directly to the history of the Chicago Symphony Orchestra trumpet section, and the CSO has given permission for the reprinting of trumpet section photos from their archives. Accordingly, a portion of the revenue from the sale of these calendars will be donated to the CSO. This is an excellent gift to give to all of your favorite trumpet players, and of course for anyone who loves looking at trumpets and learning about their history!
John Hagstrom
Second Trumpet
Chicago Symphony Orchestra
Order it now on the Hal Leonard website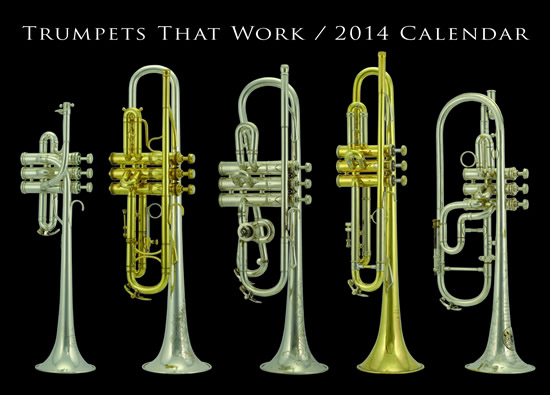 January
C. G. Conn Wonder Solo Alto
Designed for brass band players to play the highest Eb alto parts
February
Elden Benge Trumpet in Bb
Benge copied the design of F.Besson trumpets built in Paris
March
Vincent Bach Trumpet in Bb
The only "Long Streamlined" Stradivarius trumpet Vincent Bach ever built
April
C. Mahillon Trumpet in Bb
Designed by Theo Charlier in the late 1890s
May
Selmer & C. Mahillon Piccolo Trumpets
Both in Bb. Selmer "Maurice Andre Model" originally owned by Maurice Andre
June
Selmer "Balanced" Trumpet in Bb
This model was played by famous bandleader Harry James
July
Josef Monke Trumpet in C
"Herseth Model" rotary valve trumpet used in the Chicago Symphony Orchestra
August
E. A Couturier Trumpet in Bb/A
This "Continuous Conical Bore" model was patented in 1913
September
Holton-Clarke Cornet in Bb
"Holton-Clarke Model" endorsed by Herbert L. Clarke beginning in 1917
October
Harry B. Jay Trumpet in Bb/A
"Columbia" model incorporating Jay's patented "Telescoping-Tubing" invention
November
H. N. White "Silvertone" Trumpet in Bb
H. N. White "Silvertone" models were played by Walter Smith, Del Staigers, and Adolph Herseth
December
Vega Trumpet in Bb
Endorsed by Walter M. Smith beginning in 1919
January 2015
Couesnon Piccolo Trumpet in Bb
This model was used by Adolph Herseth in the Chicago Symphony Orchestra
Questions? Email info@TrumpetMultimedia.com