Now Available - Trumpets That Work 2016 Calendar!
This 2016 "Trumpets That Work" calendar features stories of trumpet players, trumpet makers and the development of the trumpet over several generations. It is an excellent gift to give to all of your favorite trumpet players and, of course, for anyone who loves looking at trumpets and learning about their history. The instruments featured were chosen because of their significance within accomplishments of great trumpeters over the last century, and also for their innovative designs.
The success of any effort to manufacture a musical instrument relies on the quality and consistency of the instrument, and also the publicly endorsed preference of it by prominent players. Each generation of trumpet player and trumpet manufacturer shares a common challenge for building and maintaining excellence. Many of the most successful trumpet makers were initially accomplished musicians who applied the discipline of their musical training to the challenge of creating instruments. This calendar tells many stories of musicians and manufacturers passing on their standards of excellence.
Many of these trumpets are also related directly to the history of symphony orchestras, and several current and former professional trumpeters have assisted in the research for each story. The specific history of the Chicago Symphony Orchestra trumpet section is also featured within several of the narratives, and special thanks to Tom Crown, Rudy Nashan, Bill Babcock, Frank Kaderabek, George Vosburgh, Will Scarlett and the family of Adolph Herseth for their assistance and permissions.
John Hagstrom
Second Trumpet
Chicago Symphony Orchestra
Order online (to be shipped within the U.S.) >>
If you buy just one calendar the price is $24.95.
Buy 2-4 calendars - the price for each is discounted by $5 (19.95 ea).
Buy 5 or more calendars - get a discount of $7 off each calendar (only 17.95 each!).
For orders shipped outside the U.S.,
please order through the Hal Leonard website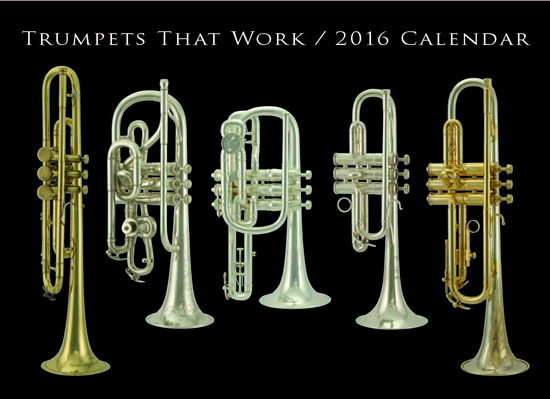 January
C.G. Conn Trumpet in Bb/A
This New Era model was played by Louis Armstrong
February
Domenick Calicchio Trumpet in Bb
Played by Gary Grant on the #1 recording of all time—Michael Jackson's Thriller
March
E.A. Couturier Cornet in Bb/A
Extremely rare "Direct Mouthpipe" design
April
Vincent Bach Trumpet in C
Played by Adolph Herseth in the Chicago Symphony Orchestra
May
F.A. Reynolds Trumpet in Bb
This early model has a sterling silver bell
June
Vincent Bach Trumpet in Eb/D
Played in the Chicago Symphony Orchestra by William Scarlett
July
Vincent Bach Trumpet in C
Played by Frank Kaderabek in the Philadelphia Orchestra, the Detroit Symphony and the Chicago Symphony
August
Martin Cornet in C
Played by Adolph Herseth in the Chicago Symphony Orchestra
September
F.E. Olds Trumpet in Bb/A
This "Military Model" was one of Olds' first trumpet designs
October
Z.A. Meredith Cornet in Bb/A
This "Open Tone" design is unlike any other
November
David Monette Trumpet in C
Played by Adolph Herseth in the Chicago Symphony Orchestra
December
Vincent Bach Trumpet in Eb/D
Played by Samuel Krauss in the St. Louis Symphony and the Philadelphia Orchestra
January 2015
Johann Sattler Trumpet in Bb
This TARV valve design was patented in 1938
Click here to order this 2016 calendar >>
Questions? Email info@TrumpetMultimedia.com